Lori's Blog & Newsletters
See my newsletter how you too can DITCH THE FILTER AND SPRING CLEAN YOUR SKIN
Don't let Maskne (mask acne) get you down! Check out my 7 tips to help prevent and repair it in my Instagram series. My suggestions are healthy for the immune-compromised client as well! (with possible exception of the exfoliant use) Instagram: murtaghlori
~~~~~~~~~~~~~~~~~~~~~~~~~~~~~~~
FACIALS AND FULL FACE WAXING ARE BACK! CAN'T WAIT TO SEE YOU! You can download my October 2020 Newsletter here also discussing the Belmondo Mask (for cancer patients and all those with very dry skin) and Mask Acne (maskne):
October Newsletter-Belmondo Mask/Maskne/Facials are Back!

See my SEPT 2020 NEWSLETTER introducing a new at-home facial tool to use between skin treatments. I also include a recent interview with MAYO CLINIC physicians regarding how wellness services (like my Tranquility Touch Therapy) can boost your immune health! Download here: THE "EPIC" at home tool & Boost your Immunity talk
~~~~~~~~~~~~~~~~~~~~~~~~~~~~~~~
MY NEWER WELLNESS SERVICE WILL HELP YOU FORGET YOUR COVID-19 STRESS WHILE HELPING TO BOOST YOUR IMMUNE HEALTH! Need to de-sensitize, de-stress and step away? Look at this special service that I created just for you! Tranquility Touch Therapy August 2020 Newsletter
~~~~~~~~~~~~~~~~~~~~~~~~~~~~~~~
As of May 1, 2020, I AM NOW NCEA CERTIFIED!
This is a voluntary, national certification and represents the highest skin care credential available in the US. I chose to become certified because of its many educational and other benefits, but especially because this organization and its members work to establish and raise industry standards. It benefits and protects you, the client. Attaining this credential gives me a louder voice to assist in providing advocacy for our profession to state legislators and regulatory boards. There are proposals to deregulate our industry so that strict licensing will not be necessary. In my opinion, that is truly a very scary and dangerous thought and would place the health and welfare of the community at large in jeopardy. I have always believed that if anything Esthetician schooling should be more hours and more demanding of a program. In Europe, estheticians go to school for much longer. That is why I have always sought out as much education as possible, even though continuing education with a regular esthetics license is not required here in PA. The standards need to be raised not removed. I look forward to joining NCEA's efforts to raise the bar!

~~~~~~~~~~~~~~~~~~~~~~~~~~~~~~~~~~~~~
DID YOU MISS MY MAY NEWSLETTER ABOUT PROTECTING YOUR SKIN FROM MASK WEARING? CLICK HERE:
LORI'S SKIN CARE NEWSLETTER-MAY 2020
APRIL'S NEWSLETTER IS ABOUT FACIAL HAIR EVERYWHERE! WHAT DO I DO ABOUT ALL THIS FACIAL HAIR!
MARCH'S NEWSLETTER-SALON ON COVID-19 "PAUSE" HOW TO KEEP YOUR SKIN CLEAN & KEEP STRESS DOWN WHILE ON PAUSE
YES MY TREATMENT ROOM IS ON PAUSE . . . BUT
JUST BECAUSE MY TREATMENT ROOM IS ON PAUSE DOESN'T MEAN I AM NOT THINKING ABOUT YOU! I CERTAINLY AM AND WORKING ON WAYS TO CONNECT WITH YOU DURING THIS TIME. I PRAY THAT YOU ALL REMAIN SAFE AND HEALTHY AS WE ALL DO OUR PART FOR THE GOOD OF EVERYONE. LOOK FORWARD TO SOME EMAILS FROM ME. CHECK OUT MY INSTAGRAM FOR AN ALPHABET SKIN CARE SERIES I AM DOING (murtaghlori) AND FOLLOW ALONG. I WILL TRY TO PUT SOME COMIC RELIEF IN THERE AS WELL . . . MY VIDEOS ARE A GOOD START IN THAT DIRECTION AS I LEARN HOW TO DO THEM . . . AND LEARN HOW TO EDIT THE VIDEOS NOW THAT I KNOW ONE MINUTE IS MAX TIME! THE SILVER LINING IS THIS IS A GOOD TIME FOR GROWING AND LEARNING AND DOING THINGS THAT MAY BE OUT OF OUR COMFORT ZONE. WHEN ALL IS SAID AND DONE, WE WILL BE STRONGER PEOPLE AND A STRONGER NATION AND HOPEFULLY A WORLD WHERE WE COME TOGETHER. WISHING THE VERY BEST FOR YOU AND YOUR FAMILY. WITH LOVE AND GRATITUDE FOR EACH ONE OF YOU. LORI
~~~~~~~~~~~~~~~~~~~~~~~~~~~~~
Why the Osmosis Revitapen is preferred over Microneedling. See this article:
Microneedling vs. Osmosis Revitapen
~~~~~~~~~~~~~~~~~~~~~~~~~~~~~
LOOK WHAT'S NEW IN 2020! DON BERNABO'S RETIREMENT AND PETE'S SALON OWNERSHIP!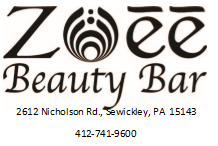 After 46 successful and wonderful years in the business, SALON BERNABO OWNER, DON BERNABO has retired. We had such a fun retirement party for him and his wife, Margot, who has worked very hard behind the scenes at Salon Bernabo for the past 13 years. Thanks to all those who attended and provided so many loving, well wishes. We all are elated for Don as well as for PETE DEDOUSIS who has taken over the business as the new owner of ZOEE BEAUTY BAR. Pete worked for Don as a Master Stylist at Salon Bernabo since its opening 13 years ago and previously for Don at Elizabeth Arden's at Kaufmann's. Be sure to congratulate PETE when visiting!
~~~~~~~~~~~~~~~~~~~~~~
WHAT IS SELF-CARE AND WHY DO WE NEED IT? See this newsletter which shares some good information about the effects of stress and then my Special Note on the last page:
https://lorimurtagh.skincaretherapy.net/files/Sept%202019%20Newsletter.pdf
CAN YOU SPOT SKIN CANCER? BELOW IS A VIDEO TO HELP YOU!
Check out a good, free resource for skin cancer materials located at: www.aad.org. Their Spot Cancer tab has many resources such as: Body Mole Map, How to Spot Skin Cancer which includes the ABCDE chart, Skin Cancer Fact Sheet, FAQ's about Sun Safety and many more. All are downloadable.
___________________________________________
OSMOSIS FACIAL INFUSION ~ 2.5% Retinaldehyde ~ 75 Minutes
Facial Infusion generates a 30-day collagen production increase and is a wonderful option used to boost/speed the results of the Osmosis protocols. It is unique because it is a non-chemical peel that avoids damaging the epidermis by penetrating several high-dose active ingredients into the dermis through liposomal delivery. Facial Infusion enhances results for acne, aging, rosacea and hyperpigmentation and can be customized by adding other professional powder blends and actives for increased correction. It is highly recommended to use the RevitaPen (info below) to further enhance the results from Facial Infusion. Skin will look hydrated and plump, with fewer fine lines and even texture and the results improve over time.
**IN ORDER TO RECEIVE THE FACIAL INFUSION FACIAL, YOU MUST BE PREPPED ON AN OSMOSIS VITAMIN A SERUM AT LEAST 1 MONTH PRIOR TO HAVING AN INFUSION. THIS HELPS TO MAXIMIZE RESULTS AND PREPARE THE SKIN.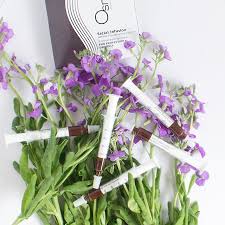 THE OSMOSIS REVITAPEN!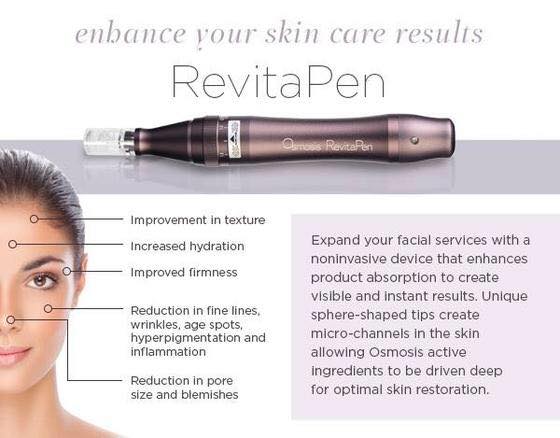 Osmosis RevitaPen Facial - 75 Minutes
This skin treatment offers immediate and long-term results with a non-invasive device that uses a unique sphere-shaped tip to gently create micro-channels in the skin. Product absorption is enhanced while ingredients are driven deep into the skin for optimal skin restoration. It stimulates circulation, softens fine lines, reduces pigmentation, improves hydration levels, reduces scarring, and controls breakouts. The treatment is customized by my selecting individual ingredients to create cocktail blends that act quickly and deliver desired results for your individual skin needs. There is no down-time with this facial. Unlike skin needling, this non-inflammatory treatment is relaxing and rejuvenating without wounding the skin. You will enjoy the immediate results!
~~~~~~~~~~~~~~~~~
Dark Chocolate . . . . to indulge or not to indulge . . . . that is the question: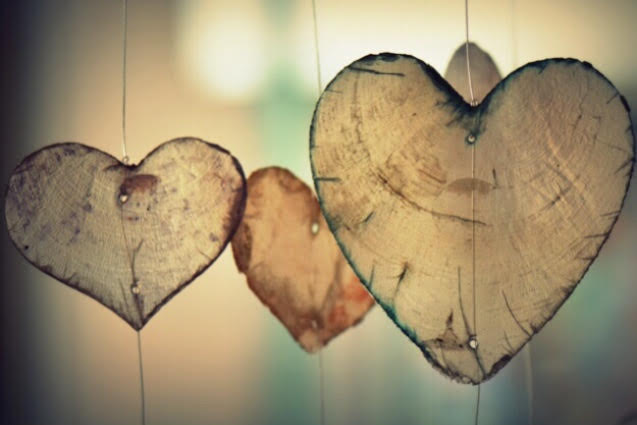 Valentine's Day is just around the corner! What better way to achieve healthy, glowing skin than to have a facial infused with skin-loving ingredients, especially the Osmosis Chocolate Cherry Mask! But how about also eating some Dark Chocolate? In Alex Caspero's "Dark Indulgence" article in ASCP's Skin Deep magazine, he says "Chocolate Lovers Rejoice!" (That's a man after my own heart!) Dark chocolate is loaded with Flavanols which are bioactive compounds found in dark chocolate and other antioxidant-rich foods. They are great for the skin as they can protect against sun damage, increase skin density and hydration, and improve blood flow to the skin. Just remember that dark chocolate must be consumed in moderation. A 3.5 ounce of quality dark chocolate contains about 600 calories and a moderate amount of sugar. (I will save my "sugar talk" for another time!) For maximum flavor impact,he suggests placing a small piece in your mouth and allowing it to slowly melt. That sounds delightful! I suggest your sharing a piece with your special Valentine and savor the flavor!
~~~~~~~~~~~~~~~~~~~~~~~~~~~~
As there are many faces of winter, there are Many Faces of Skin Cancer. Check out my Winter 2019 newsletter below. It discusses the different types of skin care and how "when in doubt, check it out". Also enjoy articles about Relief for Computer Users and 3 Skin Care Considerations before you raid your pantry for at-home skin care recipes!
https://lorimurtagh.skincaretherapy.net/files/Winter%202019%20Newsletter(1).pdf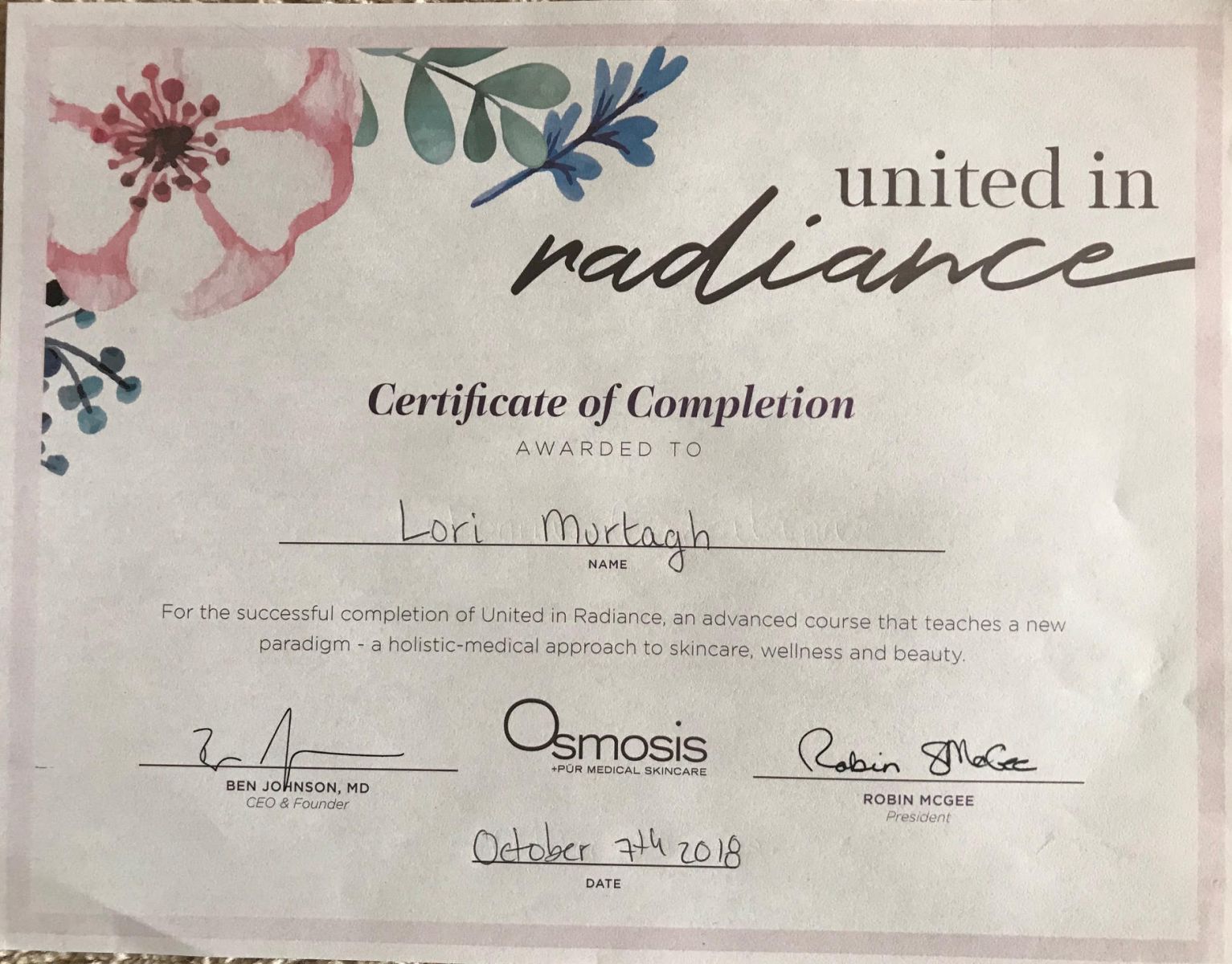 WHAT A WEEK OF EDUCATION! First on Monday, Oct 1st, I participated in the ASCP Skin Care Summit. So much great information on the science, prevention and management of skin aging, epigenetics, waxing techniques, and even education by Osmosis' founder, Dr. Ben Johnson, on ingredients that create permanent change in the skin.
Then that weekend, I traveled to Orlando, FL to experience two full days (plus some fun evenings) packed with Osmosis experts, including Dr. Ben Johnson, who discussed holistic approaches and best treatment options to address the source of skin conditions like acne, rosacea, aging, and more! It was fabulous to be further educated by experts in the field as well as meeting so many like-minded estheticians in Florida. I can now share all this information with you in my treatment room!
Knowing that healthy, clean makeup is an important extension of our skin care regimen, I also enjoyed discussions about current beauty trends and Osmosis mineral makeup techniques. Along with continuing to carry the Advanced Mineral Makeup line, I started also carrying Osmosis mineral makeup, so that you have many options!
~~~~~~~~~~~~~~~~~~~~~~~~~~~~
Mark your Calendars as summer is ending! See this Osmosis article on 6 Reasons to Schedule your Next Facial:
Six Reasons to Schedule Your Next Facial
~~~~~~~~~~~~~~~~~~~~~~~~~~~~
TANNING BEDS: PLEASE DO NOT get that "one time" tanning bed session so you don't "burn at the beach". Did you know that ONE TIME use of an indoor tanning bed increases your risk of Melanoma by 20%? The risks go up from there. The Month of May is SKIN CANCER AWARENESS MONTH. See this quick youtube video!
https://www.youtube.com/watch?v=q1N4KIbwk8Y
For more information, see this article:
https://www.skincancer.org/publications/sun-and-skin-news/fall-2012-29-3/tanning-risk
~~~~~~~~~~~~~~~~~~~~~~~~~~~~
It's time to SPRING FORWARD and get more health conscious about the foods we eat that feed our face! In this season's newsletter, I talk about organic foods, 5 super foods, and how to do a skin cancer self-check. Of course the tips on self-checking our skin does not replace our need to routinely see our dermatologist!
I often suggest to my clients that if their dermatologist advises to watch a particular mole or if they are awaiting their appointment to get one checked, to take a picture of it on their phone or other device. That way they can keep tabs on it with the ABCDEs of skin cancer in mind. Contact your physician with any of the following: Asymmetry (one half does not match the other half), Borders (uneven edges), Color (variety of colors like brown, tan or black but even becoming red, white or blue), Diameter (grows larger than the size of a pencil eraser, but sometimes can even be smaller too when first detected), Evolving (changes in shape, color, elevation or other trait, or if starts itching, bleeding, or crusting.)
Click on this link for my Spring 2018 Newsletter: https://lorimurtagh.skincaretherapy.net/files/Spring%202018%20Newsletter.pdf
~~~~~~~~~~~~~~~~~~~~~~~~~~~~
March 2018:
Are you a "LIPSTICK ON THE GO" type of gal? Here's a great article on the 7 steps of doing it right!
https://amp-thisisinsider-com.cdn.ampproject.org/c/s/amp.thisisinsider.com/how-to-apply-lipstick-2018-2
~~~~~~~~~~~~~~~~~~~~~~~~~~~~
February 2018:
See my WINTER NEWSLETTER right below. You will not want to miss how to care for your skin during the changing seasons, the importance of staying hydrated, and 3 skin care considerations to remember. Of course, there is always my personal note at the end!
https://lorimurtagh.skincaretherapy.net/files/Winter%202018R%20Newsletter.pdf
~~~~~~~~~~~~~~~~~~~~~~~~~~~~~
January 2018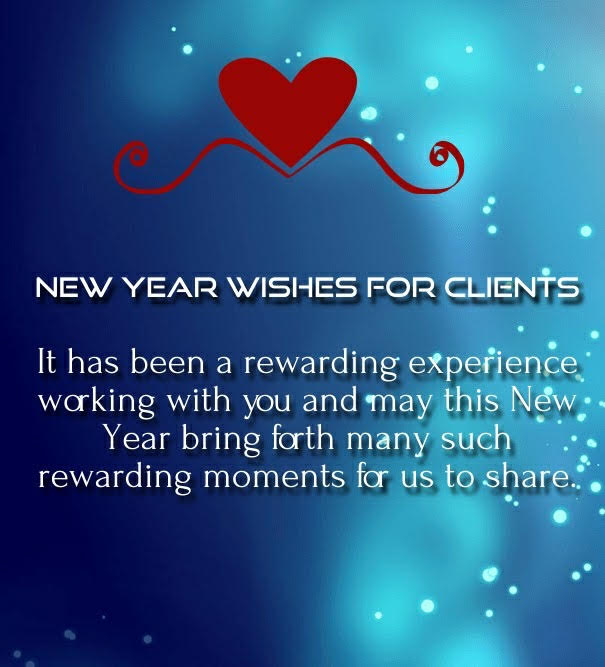 OCTOBER IS BREAST CANCER AWARENESS MONTH - DRAWING FOR "MY OASIS" FACIAL!

CONGRATULATIONS TO KATHY K. OF PITTSBURGH WHO WON THE "MY OASIS" FACIAL. It was such a pleasure providing your facial and discussing your skin care, Kathy!

In support of Breast Cancer Awareness Month, I am having a drawing at the end of this month to provide a free customized "My Oasis" facial for a man or woman currently in treatment or thereafter experiencing the side effects from undergoing treatment. Please send an email with your name, address and best contact phone number to: lorimurt.healthyskin@gmail.com OR if you know someone (does not need to be a salon client) that could benefit from this specialized skin service, kindly have them send me their information. I will also have the drawing contents at our Salon's front desk if you are at the salon and would like to complete it.

~~~~~~~~~~~~~~~~~~~~~~~~~~~~~~~

Please enjoy reading my Fall 2017 Newsletter. This issue covers: Understanding Skin Care Ingredients, The Scoop on Sugar, What is LED Therapy, and my personal message:

https://lorimurtagh.skincaretherapy.net/files/Fall%202017%20Newsletter.pdf September 2017 Oncology news: I just returned from Denver, Colorado after completing a refresher oncology training course with Becky Kuehn of Oncology Spa Solutions. I had a wonderful class with 12 amazing women from various parts of the U.S. who were experiencing this training for the first time. After completing and passing my latest exam, I am re-certified through 2019 to help clients journeying through cancer and thereafter! If there was ever a group of individuals needing and deserving specialized skin care and some extra TLC, it is these men and women! ~~~~~~~~~~~~~~~~~~~~~~~~~ Does your lipstick have lead in it? Take control of your skin and use our Advanced Mineral Makeup line which contains no lead. In fact, unlike some other mineral makeup lines, it contains no talc, binders, fillers, parabens, or toxins. It's 100% vegan and gluten free and contains the physical sunscreen of Zinc Oxide. The 100% pigmentation of AMM's foundations deliver a beautiful, high coverage finish with a "low visibility" look and feel. Wonderful for rosacea, acne, and health-challenged skin! Choose safe, natural makeup for your skin from Advanced Mineral Makeup. Available at Salon Bernabo. ~~~~~~~~~~~~~~~~~~

Enjoy this June 27, 2017 Article:

16 WAYS TO COMBAT INFLAMMATION (ACCORDING TO SCIENCE) "People who experienced a wide range of positive emotions (all 16, to be exact) had lower levels of systemic inflammation in their bodies."

https://www.wellandgood.com/good-advice/how-to-lower-inflammation/?utm_source=Well%2BGood&utm_campaign=a4548b1bce-6_29_17_EE_ENG_Program_99DaysofSummer&utm_medium=email&utm_term=0_b430628ea3-a4548b1bce-395812733#comments ~~~~~~~~~~~~~~~~~~~~~~~~~~~~

MAY IS MELANOMA AWARENESS MONTH

Take some time to emphasize the importance of sun-safety as summer arrives. Read the Osmosis blog below to learn easy ways to protect the skin you are in!

https://www.linkedin.com/hp/update/6268233501984768000 ``````````````````````````````````````````

TO INVEST . . . . OR NOT TO INVEST IN YOUR SKIN?

Let's think about it. You wear your skin every day. It represents a part of you and tells its own story. But you still wonder---is a professional facial and "good" skin products really worth my time and money? I tell you it is worth both and my attached newsletter will explain why!

March 2017 Newsletter

~~~~~~~~~~~~~~~~~~~~~~~~~~~~~~~~~~~~~~~~~~~~~

THE BENEFITS OF VITAMIN A ~ Feb 2017

Dr. Ben Johnson -

Founder & Formulator - Osmosis Skincare

Ask any professional in the industry and they will tell you vitamin A is an essential part of a skincare protocol. This is true, but only for 1 type of vitamin A; stabilized retinaldehyde

. There is no proven research that shows that

retinol

(trans or cis),

retinyl

palmitate

,

retinyl

acetate or any other form actually stimulates collagen. Even

retinoic

acid (

Retin

A), which stimulates collagen can be difficult on the skin.

Retinoic

acid has been shown to thin the dermis by 18% after one years use.

Retinaldehyde

is the only research proven A that stimulates collagen and does not thin the skin! The only one!

Osmosis made this powerful age-reversing ingredient

liposome

delivered so that we can get up to 600% more of it into the skin. Equally as important, we included additional collagen stimulators to feed the skin and maximize your collagen making potential. Our vitamin A products are not sun-sensitizing because of the technology we use. They are a must have for your clients.

~~~~~~~~~~~~~~~~~~~~~~~~~~~~~~~~~~~~~~~~~~~~~

"Oh the weather outside is frightful . . .but the fire inside delightful . . ."

Winter is that time of year when our skin becomes very dry and dehydrated. We weather the wind and cold temperatures outside, then come into forced air inside. Our skin becomes dry and premature aging issues set in. When our skin becomes dry, then skin sensitivity increases. If you have Rosacea, you know this to be all too true. So many of you, with and without Rosacea, have come to me recently with this exact issue.

My solution: an OSMOSIS WINTER FACIAL!

Come in today and let me replenish and hydrate your skin back to better health.

In the meantime, read my attached newsletter to learn about Skin Care Through the Changing Seasons:

Osmosis +Pur Medical Skincare

Beautiful Skin Starts Within ~ Take The Journey

Osmosis skincare is dedicated to fostering and maintaining health through a combination of holistic and innovative products that address common problems on a cellular level.

With clinically proven results and advanced patented technologies, let Osmosis show you how science and nature can change the way you look at skin care.

Schedule a facial today for us to discuss how Osmosis can help your skin condition at the source. (www.osmosisskincare.com)

~~~~~~~~~~~~~~

November is National Healthy Skin Month! Celebrate with a routine that inspires for happy and healthy skin. See my facial services page to select your best facial!

Please enjoy past newsletters as well:

http://lorimurtagh.skincaretherapy.net/May 2016 Newsletter.pdf

The Dermalogica IonActives Facial is HERE!

The IonActives System uses thermal energy and the latest technology to drive ingredients faster and farther into the skin. Individual Ionactives include: Hyaluronic Acid for dehydration/sensitization; Oligopeptide for hyperpigmentation, and Niacinamide for adult acne. I will be using my ultrasonic and LED technology with these facials to address the most challenging skin concerns!

~~~~~~~~~~~~~~~~~~~~~~~~~~~~

Mother's Day has come and gone, but healthy skin is always in!

JUST FOR MOM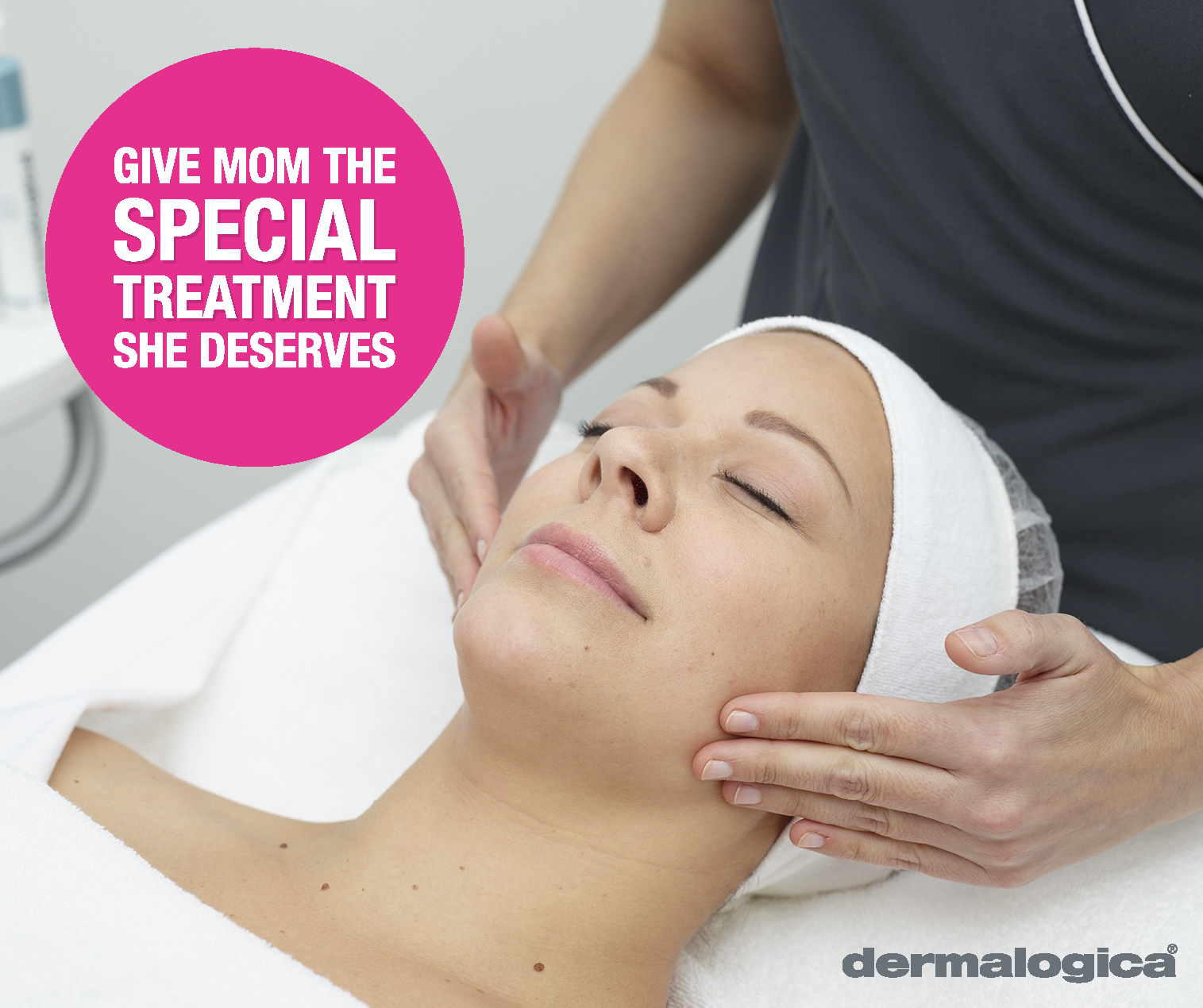 Don't forget to check out our Facebook page! "Like Us" and feel free to place a review at: www.facebook.com/salonbernabo
Winter Skin is Here!
Also see my Jan 2016 Newsletter
Now that winter is really here, the cold temperatures are beginning to wreak havoc on our skin. Skin can feel tighter, dry and flaky. Our lips can feel chapped and our hands reflect the wind that is hitting them. Now is the time to protect. Protect your lips with a lip balm enhanced with shea butter. Consider protecting your face with a moisturizer containing hyaluronic acid. Knowing that our hands have fewer oil glands and get washed even more often in the winter to avoid pesky germs, allow me to help you select a hand lotion that will adequately protect and hydrate . . . and don't forget the rest of your body!
Before providing the hydration and protection though, keep in mind that all skin types benefit from exfoliation. It allows the products providing that protection and hydration to penetrate further. It helps to prevent water loss in the skin so that the skin looks more hydrated, and it helps to heal breakouts.
Come in for a professional skin treatment and I will customize your most effective exfoliation and help you select a moisturizer to protect your skin.